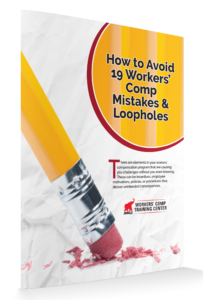 BUY THE INSTRUCTIONAL GUIDE
How to Avoid 19 Workers' Comp Mistakes & Loopholes
Price: $99 
Price: $9.57
Printed in USA. Made in America.
There are elements in your workers' compensation program that are causing you challenges without you even knowing.  These can be incentives, employee motivations, policies, or procedures that deliver unintended consequences.
This step-by-step instructional guide covers these hidden mistakes and challenges and gives instruction on how to resolve these issues under these three major points:
1)      Drivers of human behavior
2)      Disincentives to Return to Work
3)      Most common employer mistakes
Industries Served by Our Cost-Reduction Guidebook Include:
Agriculture
Amusement Parks
Casinos
Commercial Fishermen
Construction
Entertainment
Federal Government
Food & Beverage Manufacturing
Hospitals & Nursing Homes
Hotels & Motels & Resorts
Industrial Equipment Manufacturers
Janitorial Services
Mining
Oil & Gas Exploration
Printers & Publishers
Professional Services
Restaurants
Retail Chain Stores
Roofing / Roofers
State & Local Government
Telecommunications
Temporary Staffing Agencies
Transportation / Fleet Companies
Your Ultimate Guide to Mastering Workers' Comp Costs:
Learn more about how each version of Your Ultimate Guide to Mastering Workers' Compensation Costs can help your company and/or your clients:
● The BIG BOOK (Comprehensive Version) contains everything you need to know to reduce workers' comp costs and improve safety step-by-step.
● Our Mini Book summarizes each chapter of the big book and is a great overview of our WC cost-reduction process.
● The Pocket-Size Mini Book is a great client giveaway that helps your customers and keeps you top-of-mind.
How to Avoid 19 Workers' Comp Mistakes & Loopholes
Price: $99 
Price: $9.57